We understand that the technology market has changed significantly in the last few years and different organizations have unique needs whether they are revenue growth, cost reduction, competitive advantage or an increase in productivity or efficiency.
Our approach is to partner and collaborate with our clients with the common goal of reducing costs and implementation time while leveraging the client's current investment and infrastructure
Oracle E-Business Suite
OSS has been providing implementation, integration, upgrades, development of extensions as well as support and maintenance for Oracle's E-Business Suite for almost 5 years. Our applications service offerings span the full breadth of the Oracle Application implementation, going beyond that of many traditional consulting organizations.
With scalable solutions that grow with our customer's needs, OSS focuses on the business issues that are important to our clients while supplying expertise in the following areas: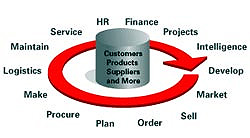 Manufacturing
Order Management
Procurement
Human Resources and Payroll
Projects
Customer Relationship Management
Applications Technical
System Integration
Database Administration
Business Intelligence
Microsoft Technology
Microsoft Certified Solution Providers (MCSPs) are independent companies that provide IT services and IT products based on Microsoft technologies to corporate, government and small business customers.
MCSP membership is 26,000 strong worldwide and is considered one of the most important resources for enabling Microsoft solutions.
MCSPs are provided with product licenses for internal and marketing use, extensive technical training and support, access to pre-release product strategy and program codes, sales and marketing resources, direct communications with Microsoft staff, and joint marketing opportunities.
The MCSP Program is designed to increase members' technical competency and business proficiency

SAP Applications
OSS has been helping our clients to implement, integrate, customize, and support their SAP systems. Our consultants provide the knowledge and experience to create tailor made solutions, and dedication and support leading to client success. Our consultants are cognizant of the factors that matter to you – including the delivery of a fully functional ERP/CRM environment on time and budget with special attention to knowledge transfer and client satisfaction.
Our resource capabilities in SAP Technology, to name some, include HR/Payroll, Financials, Time Management, Compensation Management, FI/CO, PD/SD/MM, ABAP, Workflow, Basis (security and administration), CRM (Workflow), Business Warehouse (Business Connector) and Training.
In choosing OSS, you will have peace of mind knowing that you have partnered with the experts in SAP implementations. Our consultants have completed many implementations and upgrades and know the methods to enhance and expedite your project.
Remote Application Support
Is your Information Technology (IT) department feeling overworked and spending too much time on mundane IT administration? Do you want to deliver information that improves profits and drives a competitive advantage, but find it challenging simply keeping existing systems up and running? Shifting IT's role to focus on innovation doesn't require a major overhaul, just a few degrees of change. Let our experts manage your application software and databases so you can deliver higher service levels to your users and free up your valuable resources to focus on strategic projects which impact your bottom line.
Applications maintenance is a time-consuming and expensive process. With OSS you can outsource your software management completely or partially helping you to efficiently manage your software. You can focus your IT staff on high-value activities while OSS maintains your software and improves system availability, security, performance, problem resolution and change management. All at a lower IT cost. Let OSS manage your software applications so you can
Spend more time innovating
Get better, faster service and proactive problem resolution
Spend less time managing availability, performance, security, problems and changes
Free up time to focus on strategic objectives
Lower your total cost of ownership
Keeping your databases available, secure, and performing at a high-level is important to maximize revenue and keeping customers satisfied. With OSS Database Outsourcing, experts monitor and administer your databases and application servers to improve availability, performance and security, lower costs, and free staff for strategic priorities.